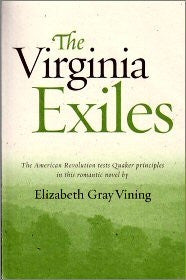 ---
This fictional account of a true incident reflects the timeless conflict between individual rights and revolutionary excess. In 1777, Caleb Middleton of Philadelphia is furious that his Quaker father has closed the family-owned iron foundry rather than permit its products to be used for military purposes in the Revolutionary War. A believer in independence for the colonies, Caleb is insulted when he is arrested for disloyalty by the government he supports and is exiled, without trial or even formal charge, to rural Virginia along with nineteen other Quakers also falsely accused of disloyalty. While there, he falls in love . . .
Author:  Elizabeth Gray Vining
Published by Philadelphia Yearly Meeting, 2002.
ISBN: 9780941308106
---
Share this Product
---
More from this collection