QuakerBooks of FGC is a ministry of Friends General Conference that serves Quakers, Quaker meetings, and interested individuals who are spiritually inquisitive. As the first part of our name implies we carry books, pamphlets, ebooks, curriculum, and the like that help Friends and others live our lives as expressions of our faith, serve our values, and learn about the Quaker way past and present.
In addition to selling books online at QuakerBooks.org and locally at pop-up events, we sell books at the annual week-long FGC Gathering during the summer and work with yearly meetings and other Friends' organizations to offer book tables at conferences and gatherings. 
QuakerBooks of FGC offers discounts for spiritual formation groups, study groups and meeting book groups. We offer 10% off most titles when you order 6 or more copies, and on orders over $100.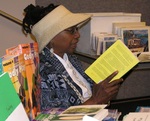 To place an order over the phone, please call 800-966-4556. For additional information, call 215-561-1700 x3044 or email us at bookstore@fgcquaker.org.
QuakerBooks of FGC accepts orders from our customers:
Online through this website
By phone at 1-800-966-4556 Monday through Friday 8:30am to 5:00pm Eastern Time
Through mail at QuakerBooks c/o PSSC, 46 Development Rd, Fitchburg, MA  01420

We accept most major credit cards and as of January 2018 we also accept checks for orders placed by mail. Checks or mail orders can be made out to QuakerBooks of FGC. 
Friends General Conference, our parent organization, is a nonprofit, volunteer-guided organization that provides services and resources for individual Quakers, Quaker meetings, and people interested in the Quaker way, particularly in the unprogrammed Friends meeting tradition. The work of FGC can be summarized by three areas of endeavor:
Help meetings deepen Quaker worship and practice
Support a loving Quaker community
Support Quaker outreach
 Click here for our Privacy Policy.