QuakerBooks & More of FGC is a ministry of Friends General Conference that serves Quakers, Quaker meetings, and interested individuals who are spiritually inquisitive. As the first part of our name implies carry books, pamphlets, ebooks, curriculum, and the like that help Friends and others live our lives as expressions of our faith, serve our values, and learn about the Quaker way past and present.
As the "& More" suggests we also carry products that  make life better according to a Quaker definition of "better." That includes things such as greeting cards, blank journals, apparel and more that are sustainably sourced, use little/no energy, respect and ideally support the natural world while also supporting the enjoyment of a more simple, natural lifestyle.  We hope to enable Friends and friends of Friends to make a difference in the world while enjoying life's simple abundance with grace – and wanting to share this with others in addition to working for social change.
In addition to selling books on-line at QuakerBooks.org, we are also an in-person store serving customers throughout the Delaware Valley. After residing at the FGC office for almost 26 years, we relocated to a store front location on the Pendle Hill campus in Wallingford, PA in April 2015. We also sell books annually at the week-long FGC Gathering in July and work with yearly meetings and other Friends organizations to offer book tables at conferences and gatherings. 
QuakerBooks of FGC offers discounts for spiritual formation groups, study groups and meeting book groups. We offer 10% on most titles where you order 6 or more.
Our bookstore hours are Tuesday, Thursday, and Friday 9:00 a.m. to 4:00 p.m., Saturday 10:00 a.m. to 4:00 p.m.. with occasional "down periods" during the year.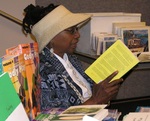 To reach us by phone, call 215-561-1700 x3044 or 800-966-4556. Email us at bookstore@fgcquaker.org.
Visit us and browse our selection of books at Pendle Hill located at 338 Plush Mill Rd, Wallingford, PA 19086.
Friends General Conference, our parent organization, is a nonprofit, volunteer-guided organization that provides services and resources for individual Quakers, Quaker meetings, and people interested in the Quaker way, particularly in the unprogrammed Friends tradition. The work of FGC can be summarized into three areas of endeavor:
Help meetings deepen Quaker worship and practice
Support a loving Quaker community
Support Quaker outreach
 Click here for our Privacy Policy.