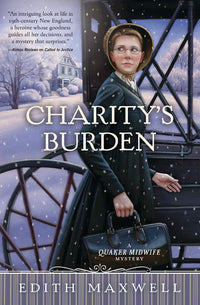 Charity's Burden - Quaker Midwife Mystery #4
---
 Quaker midwife Rose Carroll seeks the true cause of a young mother's death in turn-of-the-century Massachusetts.
The winter of 1889 is harsh in Amesbury, Massachusetts, but it doesn't stop Quaker midwife Rose Carroll from making the rounds to her pregnant and postpartum mothers. When Charity Skells dies from an apparent early miscarriage, Rose wonders about the symptoms that don't match the stated cause of death. She learns that Charity's husband may be up to no good with a young woman whose mother appears to offer prohibited medical procedures. A disgraced physician in town does the same, while Charity's cousin seems to have a nefarious agenda of his own. With several suspects emerging, each with their own possible motives, Rose and police detective Kevin Donovan race against time to solve the case before another innocent life is lost.
See the collection of Quaker Midwife mysteries, here.
Author: Edith Maxwell
Publisher: Midnight Ink, April 2019
ISBN: 
9780738756431
paperback;  288 pages
---
Share this Product
---
More from this collection