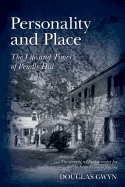 ---
Personality and Place: The Life and Times of Pendle Hill Douglas Gwyn (Plain Press, 2014) Pendle Hill is a Quaker center for study and contemplation near Philadelphia. Founded in 1930, it has been a resource for Quakers and a variety of other religious seekers, to refresh their spirits and discern new directions of service in the world. 
The center has also maintained a prophetic witness to the world through lectures, workshops, conferences and publications that critique modern trends of militarism, racism, and a variety of social and economic injustices and offer life-affirming alternatives. At the same time, the Pendle Hill community models more peaceful, equal and sustainable patterns of living.
This book follows Pendle Hill's development through its first 80 years, 1930 to 2010, showing how the center has been shaped by wider social and religious trends, while simultaneously offering prophetic alternatives to some of them. The book charts that history using the coordinates of personality and place.
Pendle Hill's founding and first 40 years were strongly influenced by the religious philosophy of personalism, which maintains that persons are formed in dialogue and community, and that healthy communities equip individual persons to be agents for peaceful social transformation in the wider world. The book shows how personalism has correlated with Quaker faith and practice, sometimes becoming more religiously and socially radical, other times more quietist and mystical. While personalism is a forgotten philosophical movement today, its subliminal influence is still detectable in Pendle Hill's second 40 years, mainly by way of renewed emphasis on Quaker faith and practice. Meanwhile, the book explores Pendle Hill's placement in affluent, suburban Philadelphia - yet less than five miles from Chester, Pennsylvania, one of the poorest towns its size in the United States. The ebb and flow of Pendle Hill's engagement with Chester exemplifies the interaction of class and race, geography and ideology on the space-time grid of a capitalist society.
Personality and Place utilizes the story of Pendle Hill as a lens to focus on larger Quaker and American currents over the past 80 years. Laurens van der Post commented on his visits to Pendle Hill in the 1950s: "I recognized immediately in Pendle Hill a kind of Oasis in the waste land of the spirit ... I went there again and again not only to join in the dialogue between the confused modern soul and the ultimate meaning of life, but to be encouraged by the conviction that in Pendle Hill one already had, as it were, a small pilot scheme of the essential community to come."
Author: Douglas Gwyn; Doug Gwyn
---
Share this Product
---
More from this collection