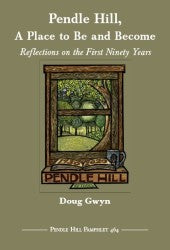 Pendle Hill: A Place to Be and Become - Pendle Hill Pamphlet #464
---
Pendle Hill A place to Be and Become: Reflections on the First 90 Years.
Doug Gwyn, historian of Pendle Hill (Personality and Place: The Life and Times of Pendle Hill, 2014), tells the story of this experimental community, structured around the features of the campus, beginning with the beech tree and ending with New House (so called as of August 2020). The early history of Pendle Hill is entwined with the American Friends Service Committee, providing a base for activism. In the 1960s the focus began to shift to study and contemplation.
With the closing of the resident program in 2014, Pendle Hill moved into an identity yet to be fully envisioned as it looks at the potential for creating a new kind of community in the wake of the pandemic and the worldwide call to grapple with systemic racism. The pamphlet includes a time line and a foreword by Francisco Burgos, newly named executive director of Pendle Hill.
Author: Doug Gwyn
Publisher: Pendle Hill, 2020
ISBN: 9780875744643
---
Share this Product
---
More from this collection