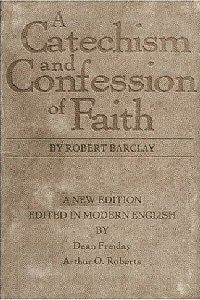 Catechism And Confession Of Faith
---
This was its origional title page
A
CATECHISM
AND
Confession of Faith,
Approved of and Agreed unto by the General Assembly of the Patriarchs, Prophets, and Apostles, CHRIST himself chief Speaker In and Among them,
Which containeth a true and faithful Account of the Principles and Doctrines, which are most surely believed by the Churches of Christ in Great Brittain and Ireland, who are reproachfully called by the Name of Quakers; yet are found in the one Faith with the Primitive Church and Saints, as is most clearly demonstrated by some plain Scripture Testimonies (without Consequences or Commentaries) which are here collected and inserted by way of Answer to a few weighty, yet easie and familiar Questions, fitted as well for the wisest and largest, as for the weakest and lowest Capacities.
To which is added, an Expostulation with, and Appeal to all other Professors.
============================================================================================================BBill Samuel at Quakerinfo says: 
Both the catechism and confession formats were very common in Barclay's day. Usually the confession was placed first, but Barclay reversed that on the grounds that, "It is more orderly to begin with easier and more readily understood things and then progress to those that are more difficult and involved."

The catechism is a question and answer format where the answers are all passages of scripture. The confession is a summary of doctrines, using largely Biblical language but with some editorial changes for appropriate flow. Together, these present the faith understandings of Friends through use of the scripture, and directly counter accusations against Friends through appeals to scripture.

Barclay, who was just 24 when this work was first published, had a little fun with it. He took the name originally given Friends in derision, Quakers, and used it in several of the questions in the catechism. He thus uses the scriptural references to people trembling at the words of God to prove the soundness of what others criticized Friends for.

Barclay adds two things to the catechism and confession. The first is a discussion of the logical steps to reasoning together about what the Christian faith means. The second is a tearing apart of some key sections of the Westminster Confession, the most widely used confession of his day. These show the workings of his keen mind.

I found that the editors of the modern English version did a remarkably good job of making the work very easily readable. In addition to updating Barclay's own words, they substituted the New Revised Standard Version for the King James. In many instances, they also put an additional modern translation in footnotes.

The editors think that the modern English version is well suited as a discussion resource and study guide for those wishing to deepen their understanding of Quaker beliefs and perspectives. I agree with them, and feel it is much better suited to this than the better known Apology. Those wondering whether the change in language may have altered the meaning can refer to the online original language version and reach their own conclusions.
---
Share this Product
---
More from this collection