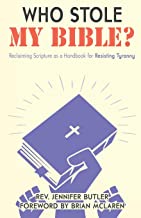 ---
Who Stole My Bible? Reclaiming Scripture as a Handbook for Resisting Tyranny
The Bible has been hijacked. We've all seen examples of sacred scripture being used and abused to justify racism, sexism, reactionary politics, and violence. If you have ever found yourself wondering what Bible some of your fellow believers are reading, then you are not alone. With a foreword from Brian McLaren, Who Stole My Bible?: Reclaiming Scripture as a Handbook for Resisting Tyranny shows how the Bible is an inspiring handbook for finding your voice for speaking truth.
Scripture is replete with stories of those who followed God's call to resist oppression and fearlessly pursue compassion, justice, and human dignity. Chapters focus on the liberating God of the Hebrews, the authoritarianism of King Solomon, the dream team of women in the Bible, and how Jesus came to bring truth and expose the lies of rulers. Each chapter illustrates the lessons of scripture with true stories of courageous religious communities countering authoritarianism and white supremacy in America today.
This book will help you connect with generations of prophets and leaders who followed God's call and prevailed against power to establish justice and community. If you have been burned and disregarded by the church, this book is for you. If you are on the verge of leaving your church because of the bigotry you see among Christians, this book is for you. Jennifer Butler once again rediscovered her Christian spirituality and her love of understanding the Bible in this work, and if you want to deeply connect your faith with your commitment to a more compassionate world, this book is for you.
Author: Jennifer Butler
Publisher: Faith in Public Life (2020)
ISBN: 9781735739205
Paperback, 178 pages
---
Share this Product
---
More from this collection