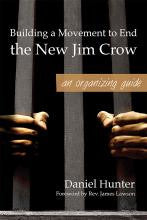 Building a Movement to End the New Jim Crow: An Organizing Guide
---
By Daniel Hunter.
Expanding on the call to action in Michelle Alexander's acclaimed best-seller, The New Jim Crow, this accessible organizing guide puts tools in your hands to help you and your group understand how to make meaningful, effective change. Learn about your role in movement-building and how to pick and build campaigns that contribute towards a bigger mass movement against the largest penal system in the world. This important new resource offers examples from this and other movements, time-tested organizing techniques, and vision and inspiration to challenge, encourage, and motivate.

    "If you want to take action to build a truly transformative movement for justice, pick up this engaging and insightful guide and read it with a few others. And then take a leap of faith. This guide can be your launching pad."
    —Michelle Alexander, author of The New Jim Crow

Whether you've been working on this issue for years, or are just starting out, you'll find tips and stories to inspire and help you make a difference!
Paperback.
Published by Hyrax Publishing, 2015.
---
Share this Product
---
More from this collection