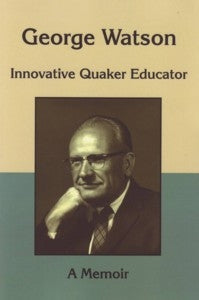 George Watson, Innovative Quaker Educator
---
George H. Watson was born in Illinois in 1915, the son of Perley M. and Margaret E. Watson. He grew up in Ohio and graduated from Miami University and the University of Illinois. He earned a PhD at the University of Chicago in Political Science. Watson's first job was as an Instructor at Southern Illinois University but he soon moved back to Chicago to take a position as research director for the Federation of Tax Administrators.
George Watson married Elizabeth Grill in 1937, and in 1938 they both joined 57th Street Meeting of Friends. The Watsons had four children, and also raised three orphaned sisters from Germany who had been pen pals of the Watson daughters.
During the War, the Watsons were deeply involved in AFSC activities, the relocation of Japanese-Americans, and other Quaker activities. George was drafted as a conscious objector in 1945 and after the War began a long career teaching at Roosevelt University in downtown Chicago. Elizabeth worked with the AFSC and the Hyde Park-Kenwood Community Conference. Both George and Elizabeth became active in Friends World Committee for Consultation.
In 1972, the Watsons moved to Long Island, NY, where George became head of Friends World College. Elizabeth was prominent as a liberal Quaker preacher and also worked as curator of the Walt Whitman birthplace in Huntington, NY. While at Friends World College, the Watson helped found Lloyd Harbor Friends Meeting and Elizabeth was active as a speaker in New York Yearly Meeting and Friends General Conference.
In 1980 George retired, and the couple moved to Friends Community in Easton, Mass. They traveled extensively in the ministry in the U.S. and Canada. They were Fellows at Woodbrooke College, England, in 1983-1984, and later served as Friends in Residence at Pendle Hill, the Quaker study center in Wallingford, Pa. In 1991, they moved to Minneapolis where their daughter Carol lived, and they became active in Minneapolis Friends Meeting. Elizabeth died Feb. 24, 2006.
Author: George Watson
ISBN: 9780984573707
paperback, 
---
Share this Product
---
More from this collection