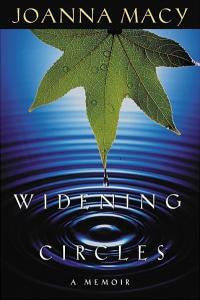 Widening Circles: A Memoir
---
In this absorbing, and sometimes thrilling memoir, well-known eco-philosopher and deep ecology activist /teacher Joanna Macy recounts her adventures of mind and spirit in the key social movements of our era. Macy's autobiography reads like a novel as she relates her multi-faceted life experiences and reflects on how her marriage and family life enriched her service to the world.
Macy's formative years with an abusive father and oppressed mother set her on an irrevocable path of self-definition and independence. A short-lived stint with the CIA exposed Macy first hand to the Cold War's darkest threats: the construction of the hydrogen bomb and the building of the Berlin Wall. With three children in tow, Macy and her husband traveled with the Peace Corps to Africa, India, and Tibet, where her encounter with the Dalai Lama and Buddhism led to Macy's life-long embrace of the religion and a deep commitment to the peace and environmental movements.
In Widening Circles, the unique synthesis of spiritualism and activism that define Macy's contribution to the world are illuminated by the life-events and experiences that have paved her uncommon path.
Author: Joanna Macy.  Joanna Macy, eco-philosopher, activist, and scholar of Buddhism and systems theory has an international following, thanks to 30 years in movements for global justice and ecological sanity. She is the author of 12 books including  Active Hope, Coming Back to Life, and Widening Circles, and she has produced a 2-DVD set entitled The Work that Reconnects.
Author: Joanna Macy
Publisher: New Catalyst Books
ISBN: 9781897408018
Paperback, 296 pages
---
Share this Product
---
More from this collection