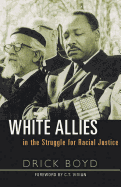 White Allies in the Struggle for Racial Justice
---
White Allies in the Struggle for Racial Justice
offers the little-known stories of 18 white Americans from the 18th century to the present who broke with a racist culture to become allies in the struggle for racial justice. The point is not to portray these people as leaders or heroes of this ongoing struggle but to challenge the idea that racial justice is only a concern for people of color. Drick Boyd shows that there are and have been white people who took up this challenge, often at great risk--and that their example can offer instruction and inspiration to others.
At a time of renewed attention to the ongoing scourge of racial injustice in America, these stories are meant to motivate others to take action to oppose and dismantle racist practices and structures, on behalf of equality and human dignity.
Among those profiled are:
John Woolman, an eighteenth-century Quaker who set out on a personal mission to persuade his fellow Quakers to renounce complicity with slavery;

Angelina Grimke, a Southerner who left the South to join the abolitionist struggle;

Clarence Jordan, a Baptist preacher who founded Koinonia Farm, an interracial community in Georgia, and faced the wrath of the KKK;

Viola Liuzzo, a mother and housewife from Detroit who was killed by the KKK while participating in the freedom march in Selma, Alabama in 1963;

Morris Dees, founder of the Southern Poverty Law Center, who has fought white supremacist groups in the courts.
Also included are study questions for reading clubs, college courses, and adult education and church groups making this a key resource for educators and activists.

Author: Drick Boyd
Publisher: Orbis Books (2015)
ISBN: 9781626981492
Paperback, 280 pages
---
Share this Product
---
More from this collection