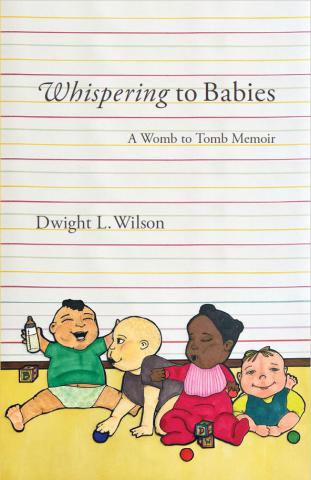 ---
Whispering to Babies: a Womb to Tomb Memoir is, on one level, about Dwight L. Wilson's experiences as a volunteer baby-holder at the Pediatric Cardiac Ward at C.S. Mott Children's Hospital in Ann Arbor, Michigan. It is also a reflection and meditation upon his own life, refracted through the lens of caring for babies and grounded in a deep well of compassion and care.
More books by Dwight Wilson, here.
Table of Contents:
Chapter 1: Learning to Like Babies
Chapter 2: Enabling Grace
Chapter 3: Touch
Chapter 4: Why in Retirement I Volunteer with Babies
Chapter 5: Interacting with Parent
Chapter 6: Focus on Other Relatives
Chapter 7: Teaching Each Other
Chapter 8 Writing and Babies
Chapter 9: Protecting Life
Chapter 10: Children at Play
Chapter 11 : Building a Mighty Fortress
Chapter 12 The Power of Love
Chapter 13: The Rewards of Patience
The book includes a postscript with "28 Pieces of Advice for Would-be Bay Whisperers" and "Queries for Those Who Seek to Support Babies." 
Throughout his career, Dwight L. Wilson is a Quaker who has held many jobs: educator, administrator, religious leader. In each role, he worked to advance equality, opportunity and understanding.
More books by Dwight Wilson, here. 
Author: Dwight L. Wilson
Publisher: Compassionate Leopard Press
ISBN: 9780997371406
Paperback, 252 pages
---
Share this Product
---
More from this collection