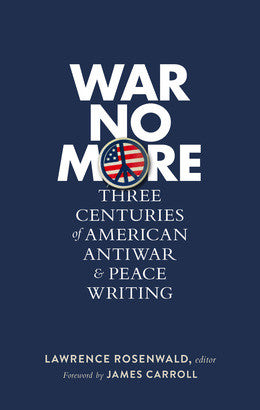 War No More: Three Centuries of American Antiwar and Peace Writing
---
"Conventional wisdom says that the voices of peace are inevitably drowned out by the trumpets of war, but this volume suggests otherwise. . . . The voices in this book, a replying chorus of hope, insist that change is possible."—James Carroll, from the foreword
Americans have been at war for most of our history as a people. Wars of conquest gave way to wars of empire, the Civil War to the World Wars, and the Cold War to the War on Terror. our national anthem celebrates heroism under fire, and martial imagery permeates our politics and our pastimes. But at every turn in this history, Americans have questioned and resisted both particular wars and justifications for war in general. Taking up the pen instead of the sword, they have produced a body of literature of great passion and power, a homegrown American tradition that refuses the proposition that war is the inevitable price of liberty or prosperity—that dares to envision a world where people learn war no more.
Gathering essays, letters, speeches, memoirs, songs, poems, cartoons, leaflets, stories, and other works by nearly 150 writers from the colonial era to the present, War No More brings this extraordinary writing together for the first time in a single volume, "a conversation," in the words of editor Lawrence Rosenwald, "not yet fully described by historians, nor fully available to activists, but living in these pages."
With a roster of writers that includes five-star generals, theologians, nuclear physicists, folk singers, statesmen, quietists, anarchists, veterans, and Nobel laureates, War No More reveals as never before the diversity, vitality, and perennial relevance of this literary tradition still in the making. Classic expressions of conscience from the journals of eighteenth- century Pennsylvania Quaker John Woolman and Thoreau's seminal "Civil Disobedience" lay the groundwork for such influential modern theorists of nonviolence as David Dellinger, Thomas Merton, and Barbara Deming.
The long arc of the American antiwar movement is vividly traced in the urgent calls of activists, made in soaring oratory and galvanizing song, and in dramatic dispatches from the front lines of antiwar protests, among them Norman Mailer's famous account of the 1967 march on the Pentagon from The Armies of the Night. The voices of veterans, from Union soldier Obadiah Ethelbert Baker to Camilo Mejía, a staff sergeant in Iraq, are prominently represented. So too is the first-hand testimony of conscientious objectors, whose religious and moral convictions led them to refuse military service, and who persisted in their beliefs in the face of ostracism, imprisonment, even torture. Contemporary writers, including Barbara Kingsolver, Jonathan Schell, Nicholson Baker, and Jane Hirshfield, demonstrate the ongoing richness of this literature in the years since September 11, 2001.
Woven together with informative headnotes by the editor, this groundbreaking collection features a detailed chronology of the antiwar movement, as well as a sixteen-page portfolio of illustrations.
Editor: Lawrence Rosenwald is the author of Emerson and the Art of the Diary (1988) and Multilingual America: Language and the Making of American Literature (2008). A war tax resister since 1987 and a longtime pacifist, Rosenwald is the Anne Pierce Rogers Professor of English at Wellesley College.
Publisher: Library of America
ISBN: 978-1-59853-473-3
---
Share this Product
---
More from this collection