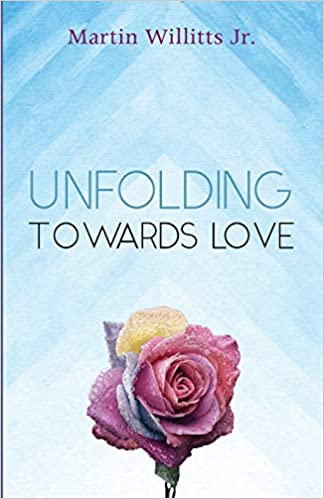 ---
Unfolding Towards Love
Unfolding Toward Love is a collection of spiritual poetry about the presence of God as well as God's hidden presence and God's voice speaking within us if we are willing to listen. Part meditation, lamentation, and acceptance, these poems search for God and find him in every object offering a welcoming. Sometimes, we do not listen; sometimes, we hear and do not obey or we question what we hear. However, if we listen, the hiddenness of God is seen, felt, and overwhelming. Sometimes, we do not know God has moved within us because it is so subtle, and then, all of a sudden, we realize what has transpired and we are amazed that we never noticed it before.

These poems are in the tradition of the ecstatic poets with their questions: What is faith, and what is faithfulness? What is God telling us? Does the message unfold like rose petals, or does it spiral outwards like Fibonacci's logarithmic spiral inside a conch shell? We question, is this God's message, or is it from ego or some other place? We try to discern what God is telling us. We do not want to misunderstand.
Author: Martin Willits, Jr.
Publisher: Resource Publications, September 2019
ISBN 
9781532695285
Paperback, 136 pages
---
Share this Product
---
More from this collection