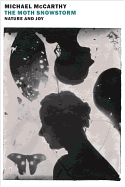 The Moth Snowstorm: Nature and Joy (hardcover)
---
A new defense of a mortally threatened natural world.
 A great, rhapsodic, urgent book full of joy, grief, rage and love . . . A must-read' Helen Macdonald, author of H is for Hawk
Nature has many gifts for us, but perhaps the greatest of them all is joy; the intense delight we can take in the natural world, in its beauty, in the wonder it can offer us, in the peace it can provide - feelings stemming ultimately from our own unbreakable links to nature, which mean that we cannot be fully human if we are separate from it.
In The Moth Snowstorm Michael McCarthy, one of Britain's leading writers on the environment, proposes this joy as a defense of a natural world which is ever more threatened, and which, he argues, is inadequately served by the two defenses put forward hitherto: sustainable development and the recognition of ecosystem services.
Drawing on a wealth of memorable experiences from a lifetime of watching and thinking about wildlife and natural landscapes, The Moth Snowstorm not only presents a new way of looking at the world around us, but effortlessly blends with it a remarkable and moving memoir of childhood trauma from which love of the natural world emerged. It is a powerful, timely, and wholly original book which comes at a time when nature has never needed it more.
Author: Michael McCarthy has won a string of awards for his writing on the environment and the natural world, first as Environment Correspondent of The Times, and later as Environment Editor of the Independent. These have included Specialist Writer of the Year in the British Press Awards, the Medal of the Royal Society for the Protection of Birds for 'outstanding services to conservation', the Dilys Breeze Medal of the British Trust for Ornithology, and the Silver Medal of the Zoological Society of London. In 2008 McCarthy wrote Say Goodbye To The Cuckoo, a study of Britain's declining summer migrant birds, which was widely praised.
Publisher: Hodder & Stoughton (October 2016)
---
Share this Product
---
More from this collection