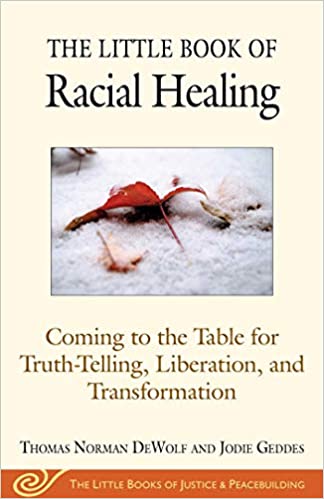 The Little Book of Racial Healing
---
The Little Book of Racial Healing: Coming to the Table for Truth-Telling, Liberation and Transformation
This book introduces Coming to the Table's approach to a continuously evolving set of purposeful theories, ideas, experiments, guidelines, and intentions, all dedicated to facilitating racial healing and transformation.

People of color, relative to white people, fall on the negative side of virtually all measurable social indicators. The "living wound" is seen in the significant disparities in average household wealth, unemployment and poverty rates, infant mortality rates, access to healthcare and life expectancy, education, housing, and treatment within, and by, the criminal justice system.

Coming to the Table (CTTT) was born in 2006 when two dozen descendants from both sides of the system of enslavement gathered together at Eastern Mennonite University (EMU), in collaboration with the Center for Justice & Peacebuilding (CJP). Stories were shared and friendships began. The participants began to envision a more connected and truthful world that would address the unresolved and persistent effects of the historic institution of slavery. This Little Book shares Coming to the Table's vision for the United States—a vision of a just and truthful society that acknowledges and seeks to heal from the racial wounds of the past. Readers will learn practical skills for better listening; discover tips for building authentic, accountable relationships; and will find specific and varied ideas for taking action. 
Author: Thoman Norman DeWolf, Jodie Geddes
Publisher: Good books (2019)
ISBN: 
9781680993622
Paperback,  120 pages
---
Share this Product
---
More from this collection