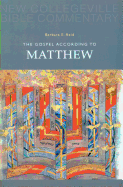 The Gospel According to Matthew
---
The Gospel of Matthew carries important lessons on the formation of community and of Jesus as authoritative Teacher--lessons that helped the early Matthean population relate to both the Jewish and Christian communities of which they were composed.
The Gospel According to Matthew provides Gospel text (New American Bible translation) along with Barbara E. Reid's commentary, to aid in the interpretation and use of this Gospel today. As Reid demonstrates, this Gospel continues to bring Vision and hope to Christians throughout the ages.
Reid stresses the importance of the Gospel of Matthew as the first book in the New Testament, possibly the first written Gospel, and the one most often used in the early church. Providing both the text and commentary, Reid addresses important questions such as the author's identity and sources, setting and Gospel translation.
Sections are The Origins of Jesus (1:1-4:11)," "The Beginnings of the Galilean Ministry (4:12-10:42)," "The Sermon on the Mount (5:1-7:28)," "Varying Responses to Jesus(11:1-16:12)," "Jesus and His Disciples on the Way to Jerusalem (16:14- 20:34)," "Jerusalem; Jesus' Final Days of Teaching in the Temple (21:1-28:15)," "Finale: Back to Galilee; Commission to the Whole World; Jesus' Abiding Presence (28:16-20)." Also includes discussion questions.
Author Barbara E. Reid, OP, PhD, is professor of New Testament at Catholic Theological Union in Chicago. She is the author of Parables for Preachers, Choosing the Better Part?, and co-editor of the Collegeville Pastoral Dictionary of Biblical Theology, published by Liturgical Press. She has also published various journal articles on New Testament topics.
Publisher:  Liturgical Press, 2005
---
Share this Product
---
More from this collection