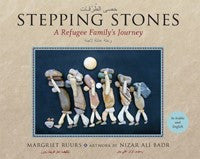 Stepping Stones: A Refugee Family's Story
---
This unique picture book was inspired by the stone artwork of Syrian artist Nizar Ali Badr, discovered by chance by Canadian children's writer Margriet Ruurs. The author was immediately impressed by the strong narrative quality of Mr. Badr's work, and, using many of Mr. Badr's already-created pieces, she set out to create a story about the Syrian refugee crisis. Stepping Stones tells the story of Rama and her family, who are forced to flee their once-peaceful village to escape the ravages of the civil war raging ever closer to their home. With only what they can carry on their backs, Rama and her mother, father, grandfather and brother, Sami, set out to walk to freedom in Europe. Nizar Ali Badr's stunning stone images illustrate the story. 
Ages 6-8
Author: Margriet Ruurs  Margriet Ruurs is the author of many award-winning books for children. She enjoys speaking about reading and writing to students at schools around the world. Her adventures have taken her to such countries as Myanmar, Pakistan, Laos, Tanzania and many others. Margriet was born in The Netherlands but has been a Canadian for most of her life. She lives with her family on Salt Spring Island, British Columbia. For more information, visit www.margrietruurs.com.
Translator: Falah Raheem: Falah Raheem is a Canadian/Iraqi translator and writer. He has published the translation of about twenty books from English to Arabic by writers like Dylan Thomas, Jean Rhys and Julian Green, and critics like Paul Ricoeur, Judith Butler and Samuel Haynes. His first novel "The Parable of the Hedgehogs" was published in Arabic in 2012. He lives in Victoria, British Columbia and was pleased to work as the translator on the Stepping Stones projec
Illustrator: Nizar Ali Badr  Nizar Ali Badr has always been inspired to paint, sculpt and draw. In his walks along the seashore near the ancient port city of Ugarit, Syria, he always admired the stones on the beach and in the clear blue water. Now he gathers these stones and brings them home to his rooftop studio, where they become the medium for his art. Nizar has never left his hometown of Latakia, though in his heart he accompanies the many Syrians who have been forced to flee their homeland because of ongoing violence.
Publisher: Orca Book Publishers, 2016
ISBN: 9781459814905
---
Share this Product
---
More from this collection