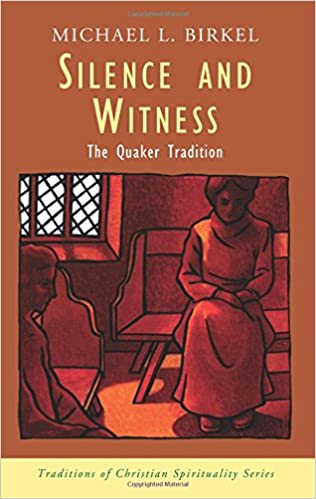 ---
Silence and Witness
This is a meaty and inviting introduction to Quaker thought and spiritual life. The detailed examination of discernment about when to speak in meeting and other leadings is worth the cover price. His chapter entitled 'The Facing Bench' lifts up well selected quotations of prominent Friends on topics such as 'The Immediate Presence of God,' 'The Universal Light of Christ,' and 'The Spiritual Basis of Peace.' his chapter on the inward experience of worship is both an excellent introduction and a seasoned examination of centering techniques. This is a book that belongs in every meeting house and in every new attender's home.
Author:  Michael Lawrence Birkel
Publisher: Orbis Press, 2004
ISBN: 9781570755187
Paperback, 164 pages
Table of Contents

Introduction
1/ Spiritual ideals in Quaker history
2/ Meeting for worship
3/ Discernment
4/ Nurturing the inward life
5/ The testimonies
6/ The facing bench
Conclusion, Notes, Works cited
An excerpt quoting Thomas Kelly on the spiritual practice of silence.

"In the Quaker practice of group worship on the basis of silence come special times when an electric hush and solemnity and depth of power steals over the worshipers. A blanket of divine covering comes over the room, a stillness that can be felt is over all, and the worshipers are gathered into a unity and synthesis of life which is amazing indeed. A quickening Presence pervades all, breaking down some part of the special privacy and isolation of our individual lives and blending our spirits within a superindividual Life and Power. An objective, dynamic Presence which enfolds us all, nourishes our souls, speaks glad, unutterable comfort within us, and quickens in us depths that had before been slumbering. The Burning Bush has been kindled in our midst, and we stand together on holy ground."
---
Share this Product
---
More from this collection