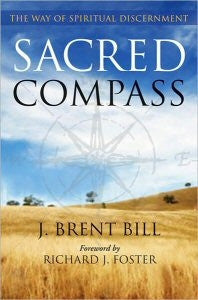 ---
A compass makes a good metaphor for our spiritual lives and the work of discerning God's will for them. The divine compass points us the mind and love of God. Our sacred compass operates in our souls and calls us to life with God. The sacred compass leads us on a life of pilgrimage - a hike to wholeness and holiness. Keeping our soul's eyes on the sacred compass leads us to the holy discovery that we can move through life with purpose and promise, even in those times when we may not sense with certainty what that purpose and promise are. "Brent Bill has written one of the finest books on discernment and divine guidance that I have seen in a very long time." -Richard J. Foster
A compass makes a good metaphor for our spiritual lives and the work of discerning God's will for them.  God doesn't speak as clearly and as obviously as Mapquest or Google Maps or GPS.  Maybe that's because we don't navigate the life of faith via anything remotely resembling GPS.  Instead, the divine compass points us the mind and love of God.  Our sacred compass operates in our souls and calls us to life with God.  The sacred compass leads us on a life of pilgrimage
-- a hike to wholeness and holiness. Keeping our soul's eyes on the sacred compass leads us to the holy discovery that we can move through life with purpose and promise, even in those times when we may not sense with certainty what that purpose and promise are.  In a grace-filled way, our compass invites us into a life of continuous experiences of God and of spiritual transformation.  As we move toward Divine guidance, we joyfully behold the face of a loving God gazing back at us.
To see more writings by J. Brent Bill, click here.
Contents
Introduction
Chapter One -- As Way Opens: Moving from Tourists to Pilgrims
Chapter Two -- Lives that Speak: What We Are Saying to Others and Ourselves along the Way
Chapter Three -- Paying Attention: Seeing the Signs on the Way
Chapter Four -- Testing our Leadings: Stages of Discernment
Chapter Five -- The Dark Path: What if You Lose Your Way?
Chapter Six -- West of Eden: What if the Way Takes Us Unexpected Places?
Chapter Seven -- Traveler's Aid: offering assistance to others along the Way
Chapter Eight -- The Dance of Discernment: The Gift and Responsibility of the Way
---
Share this Product
---
More from this collection