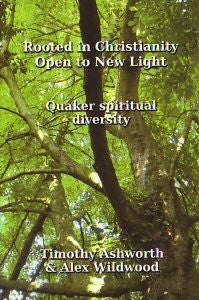 Rooted in Christianity Open to New Light
---
Contemporary Quaker meetings encounter unprecedented diversity of belief and religious language. How do we better understand and work creatively with the tension between traditional Christian faith and emerging expressions of Quakerism? the two authors developed Woodbrooke's "Rooted in Christianity, Open to New Light" project, which has traveled around many Quaker meetings in Britain. This is the book arising from the project, in which they explore the issues that spiritual diversity raises for Quakers individually and corporately, and the challenges and rewards of being a diverse, inclusive community of faith.
Alex Wildwood talks about Rooted in Christianity, Open to new Light
The model introduced here grew out of the 'Rooted in Christianity, Open to New Light' project that Timothy Peat Ashworth and I offered to local meetings and on residential events at Woodbrooke between 2001–04. Participants were invited to engage with two common faith perspectives within the Yearly Meeting – one based in traditional, biblical Christianity (with Tim as advocate) and the other informed by diverse spiritual traditions and by contemporary understandings of ourselves and the universe we inhabit. (My input was written up as Tradition and transition, opening to the sacred yesterday and today, one of the booklets in the 'Hearts & Minds Prepared' study packs.)
Working with Friends in different kinds of meetings around the country the diversity of beliefs and personal spiritual practices amongst British Quakers today was striking. We now count amongst our number self-proclaimed Buddhist Quakers, Jewish Quakers, non-theist Quakers, pagan Quakers and even humanist Quakers. We no longer share a common religious language nor can we assume a shared familiarity with scripture. Two responses to our diversity are common – either it's seen as problematic (a symptom of our loss of a cohesive, overtly Christian, identity) or it's seen as one of our greatest strengths, a sign of our openness and inclusivity. There is a polarisation between those who fear the Society is losing its Christian soul and those who are 'glad to have left all that Christian stuff behind'.
Amongst the hundreds of Friends we worked with, some had strongly negative associations with their Christian past (often from some decades ago) but there was also much that is fondly remembered. And, of course, a significant number of newcomers to our meetings now have no overtly Christian background and little familiarity with the Christian tradition. Many British Friends, whilst pleased to have left behind dogmatic, doctrinal religion, are concerned about our 'wooliness' of belief and the assumption that people can believe what they like as Quakers. Some pessimistic observers (such as Ben Pink Dandelion) feel that this lack of clarity could lead to our rapid decline in the coming decades.
Author: Timothy Ashworth, Alex Wildwood
Publisher: Pronoun Press, 2009
ISBN: 
9780955618338
Paperback, 116 pages
---
Share this Product
---
More from this collection