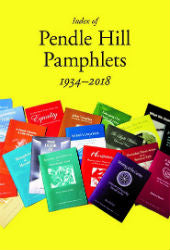 Pendle Hill Pamphlet Index - 1934-2018
---
The 2019 Pendle Hill Pamphlet Index includes four sections.
Section I is an annotated list of the pamphlets in numerical order (from the first, Vincent Nicholson's 

Cooperation and Coercion as Methods of Social Change

 in 1934, through PHP #454, Michael Bischoff's 

The Healing Power of Stories

 in December 2018); the pamphlet number serves as a cross-reference tool throughout the index. Each listing includes title, author, date of publication (in parentheses), a brief summary of the essay, and its subject(s).

Section II groups the pamphlets alphabetically by author.

Section III lists the pamphlets alphabetically by title. 

Section IV offers an invaluable subject index for the hundreds of pamphlets produced to date (see below).
Note, QuakerBooks of FGC does not keep every pamphlet in stock. We recommend contacting Pendle Hill if you don't see what you want on our website.
Publisher: Pendle Hill Publications (2019)
Paperback, 236 pages
---
Share this Product
---
More from this collection