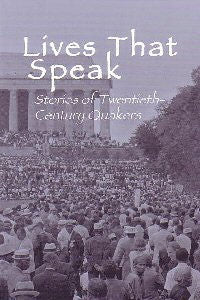 ---
Friends' Lives Highlighted in Lives That Speak:
Steve Angell, Alternatives to Violence Project.
Elise Boulding, world peacemaker.
Calhoun Geiger, conscientious objection to war.
Gordon Hirabayashi, resisting martial law in the United States.
Fay Honey Knopp, racial integration and service.
Bill Kreidler, gay rights, education.
Sigrid Lund, Nazi war resistance.
Marlene/Steve Pedigo, urban ministry, anti-racism.
Barbara Reynolds, protesting nuclear war.
David Ritchie, work camps.
Bayard Rustin, civil rights in the United States.
Floyd Schmoe, peace activism and service.
Carol Reilley Urner, local development.
Gilbert White, Quaker diplomacy, ecology.
Signe Wilkinson, cartoon as commentary.
Violet Zaru, Palestinian / Israeli peace process.
Quaker Nobel Prize winners Emily Balch (peace prize), Philip Noel-Baker (peace prize) William Vickrey (economic science prize).
One can pick up this 168-page book and start anywhere; each story stands on its own merits, including pictures of the hero/heroine at various stages of life. If you are wondering about the civil rights movement turn to Bayard Rustin, the African-American who first went to prison for refusing to sign his draft card. He went on to advise and support Martin Luther King, Jr. , in Alabama. If you are wondering about nonviolent change look up Steve Angell, or Gordon Hirabayashi, or Phillip Noel-Baker, all powerful exemplars of putting their lives on the line for matters of conscience. If third world development is your passion, read about Carol Reilley or Barbara Reynolds. Are you an artist? Read about cartoonist Signe Wilkinson.
Each chapter has a short study guide, with questions and activities. Some chapters include links to website
---
Share this Product
---
More from this collection