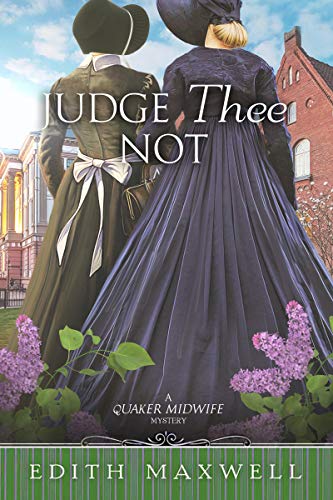 Judge Thee Not - Quaker Midwife Mystery #5
---
Quaker midwife Rose Carroll must fight bias and blind assumptions to clear the name of a friend when a murderer strikes in nineteenth-century Massachusetts . . .
No stranger to judgmental attitudes in her small town of Amesbury, Quaker midwife Rose Carroll is nonetheless stunned when society matron Mayme Settle publicly snubs her good friend Bertie for her nontraditional lifestyle. When Mrs. Settle is later found murdered—and a supposed witness insists Bertie was spotted near the scene of the crime—the police have no choice but to set their sights on the slighted woman as their main suspect.
Rose is certain her friend is innocent of the heinous deed, and when Rose isn't busy tending to her duties as midwife, she enlists the help of a blind pregnant client—who's endured her own share of prejudice—to help her sift through the clues. As the two uncover a slew of suspects tied to financial intrigues, illicit love, and an age-old grudge over perceived wrongs, Rose knows she'll have to bring all her formidable intelligence to bear on solving the crime. Because circumstantial evidence can loom large in small minds, and she fears her friend will soon become the victim of a grave injustice . . .
See all the Quaker Midwife Mysteries here.
Author: Edith Maxwell
Publisher: Beyond the Page (March 2020)
ISBN: 
9781950461462
Paperback, 240 pages
---
Share this Product
---
More from this collection