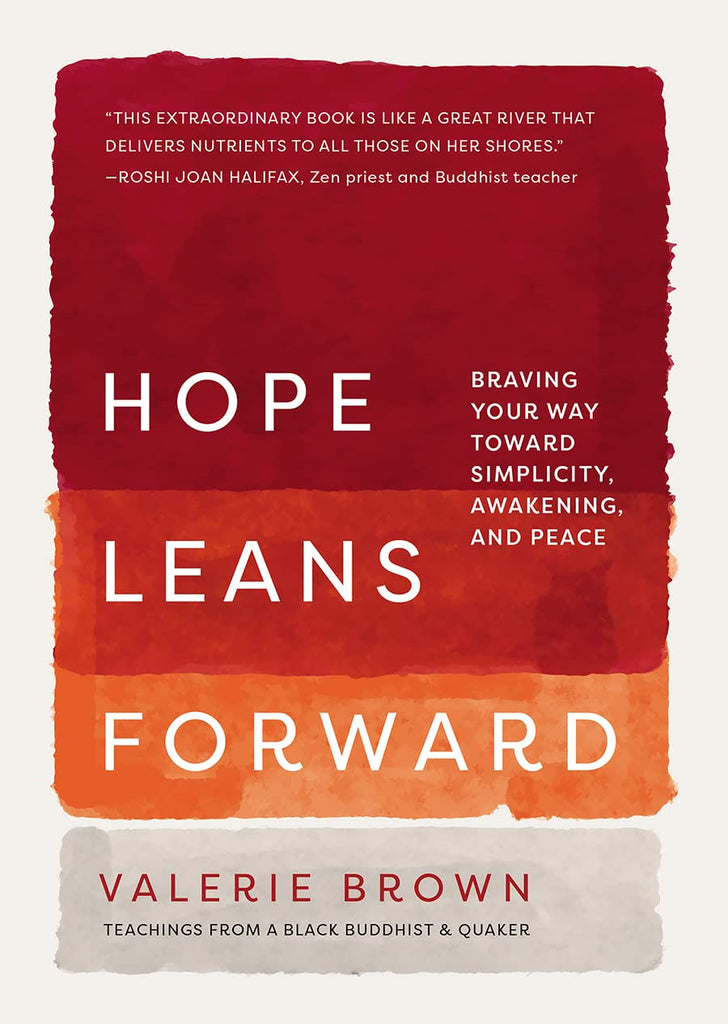 ---
Hope Leans Forward: Braving Your Way Toward Simplicity, Awakening, and Peace
Winner of a Nautilus Gold Award. The Nautilus Book Awards recognize books that support conscious living & sustainability, health & wellness, spiritual growth, and social change & social justice.
Find spiritual insight for developing courage and meeting life's broken-open, pulled-apart times for anyone seeking hope.

Daily we are asked to move toward bravery, to stretch in the direction of goodness, kindness, forgiveness, patience, and vulnerability. Yet life's tender fragility, fear, anxiety, and our own practiced self-sabotage can derail us from growing and thriving, leaving us fractured and afraid.
Ordained Buddhist teacher and Quaker Valerie Brown invites us into the heart of compassion, insight, and courage. Filled with Quaker wisdom, mindfulness meditation practices, and portraits of real people living out simple yet life-affirming bravery, Hope Leans Forward is a guidebook for all of us who are on journeys of self-transformation, self-discovery, and spiritual discernment. Centering small, everyday acts of bravery with diverse stories from marginalized communities, Brown's unique perspective as a Black Buddhist Dharma teacher in the Plum Village tradition and her extensive leadership experience shepherd us in navigating life's essential questions to discover true aliveness and meaning. When we focus on cultivating clarity and discernment in our purpose, we begin to understand that we are truly connected to--and that we contribute to--a larger whole.
Written through a period of profound personal loss and in the urgency of the Black Lives Matter movement, Brown's spiritual insight and life- and spirit-tested wisdom offers a new source for anyone seeking hope, and seeking to alleviate suffering within ourselves and our communities.
Praise
"To read this book is to feel more grounded and alive; to practice the wisdom within it is to open yourself to the possibilities of your own life." --Barry Crossno, General Secretary, Friends General Conference
"In this moment, when our interconnectedness and mutual vulnerability are more evident than ever, Valerie Brown's Hope Leans Forward offers a path luminescent in its pragmatism, crystal in its invitation to shared responsibility, gentle in its guiding steps and full of grace for each of us." --Sarah Willie-LeBreton, provost and dean of the faculty, professor of sociology and Black studies, Swarthmore
Reader Joan B. wrote us that Hope Leans Forward is "
a pleasure to hold and read, this book is a great example of memoir put to use - for the benefit of the reader.
The author - a Friend and a Buddhist - shows the gift of a life learned from and offers some simple tools to assist the reader to similar practice. Stories from her life and from others lift up the values of risk, of being broken open, recognizing wholeness, connection, truthtelling and of course, joy. A Buddhist teacher and practitioner, she brings that wisdom and experience and readers learn more about the value of Buddhist practice. A Friend, she brings centered focus and the practice of queries. Her introduction serves as an invitation to join this work, perhaps with friend. And while this book could be a workshop in a book, it is simply a book to be with - to read, reflect and be with."
Author: Valerie Brown
Publisher: Broadleaf Press
ISBN: 
9781506478371
Hardcover, 275 pages
---
Share this Product
---
More from this collection