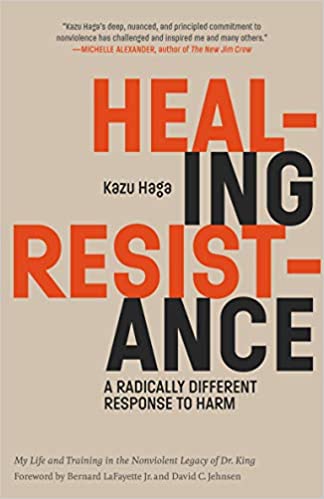 ---
Healing Resistance: A Radically Different Approach to Harm
Read the Friends Journal review, here.
Nonviolence was once considered the highest form of activism and radical change. And yet its basic truth, its restorative power, has been forgotten. In Healing Resistance, leading Kingian Nonviolence trainer Kazu Haga blazingly reclaims the energy and assertiveness of nonviolent practice (utilized by the Women's March and Black Lives Matter), and proves that nonviolent civil resistance remains the most effective strategy for social change in hostile times. With over 20 years of experience practicing and teaching Kingian Nonviolence, Haga offers us the practical approach to societal conflict first begun by Dr. Martin Luther King Jr. during the Civil Rights Movement, which has been developed into a fully workable, step-by-step training and deeply transformative philosophy. Kingian Nonviolence takes on the timely issues of endless protest and activist burnout, and presents tried-and-tested strategies for staying resilient, creating equity, and restoring peace.
Praise for Healing Resistance
"To resist today's violence exploding everywhere, in ways that can actually heal our world, seems a pipe dream—until Kazu Haga makes it real. In his wry, funny, and utterly grounded fashion, he helps me believe we can do it, and begin to become the Beloved Community. We need this book like oxygen. Kazu is my teacher."
— Joanna Macy, author of Widening Circles
Author Kazu Haga is the founder of East Point Peace Academy and one of the most experienced trainers in Kingian Nonviolence, a philosophy that comes out of the legacy of Dr. Martin Luther King Jr. A leading voice nationally in various approaches to nonviolence, organizing and restorative justice, he works to empower incarcerated communities, youth and activists to work for Beloved Community. Kazu Haga lives in Oakland, California.
Publisher: Parallax Press, 
ISBN: 9781946764430
Paperback, 296 pages
---
Share this Product
---
More from this collection