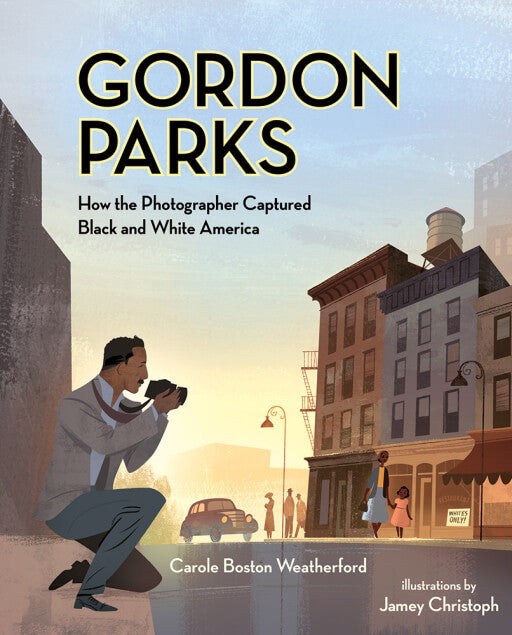 Gordon Parks: How the Photographer Captured Black and White America
---
His white teacher tells her all-black class, You'll all wind up porters and waiters. What did she know? Gordon Parks is most famous for being the first black director in Hollywood. But before he made movies and wrote books, he was a poor African American looking for work. When he bought a camera, his life changed forever. He taught himself how to take pictures and before long, people noticed. His success as a fashion photographer landed him a job working for the government. In Washington DC, Gordon went looking for a subject, but what he found was segregation. He and others were treated differently because of the color of their skin. Gordon wanted to take a stand against the racism he observed. With his camera in hand, he found a way. Told through lyrical verse and atmospheric art, this is the story of how, with a single photograph, a self-taught artist got America to take notice. 
Ages 6-8
Awards:
THE SOCIETY OF ILLUSTRATORS ORIGINAL ART EXHIBIT 2015
2015 NAACP IMAGE AWARD—OUTSTANDING LITERARY WORK, CHILDREN
NEW YORK PUBLIC LIBRARY'S 100 TITLES FOR READING AND SHARING
NOTABLE SOCIAL STUDIES TRADE BOOKS FOR YOUNG PEOPLE 2016—CBC/NCSS
Author: Carole Boston Weatherford. Carole Boston Weatherford is the author of several acclaimed poetry collections and poetic biographies, including Sugar Hill and Moses: When Harriet Tubman Led Her People to Freedom, winner of a Caldecott Honor, the Coretta Scott King Award for Illustration, and the NAACP Image Award. She teaches at Fayetteville State University in North Carolina.
Illustrateor: Jamey Christoph. Jamey Christoph studied illustration at the Ringling College of Art and Design. His illustrations have appeared in a variety of major publications and in several award-winning children's books. He has also received multiple recognitions from the Society of Illustrators and Communication Arts. He works out of his home in Maryland and loves a sunny day on the Eastern Shore with his two crazy dogs, Spencer and Owen.
Publisher: Albert Whitman & Company
ISBN: 9780807530177
2/7/2017 JBB
---
Share this Product
---
More from this collection