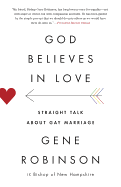 God Believes in Love: Straight Talk about Gay Marriage
---
Gene Robinson, the ninth Bishop of the Episcopal Diocese of New Hampshire, the first openly gay person elected to the episcopate, and the world's leading religious spokesperson for gay rights and gay marriage -- holds the religious text of the Bible to be holy and sacred and believes the ensuing two millennia of church history to be relevant to the discussion about gay marriage going on in America today.
He is equally familiar with the secular and political debate about gay marriage going on in America today, and is someone for whom same-sex marriage is a personal issue; Robinson was married to a woman for fourteen years and is a father of two children and has been married to a man for the last four years of a twenty-five-year relationship. 
Robinson has a knack for taking complex and controversial issues and addressing them in plain direct language, without using polemics or ideology, putting forth his argument for gay marriage, and bringing together sacred and secular points of view.
Author:  Gene Robinson
Publisher:  Vintage Books, 2013
ISBN:  9780307948090
---
Share this Product
---
More from this collection