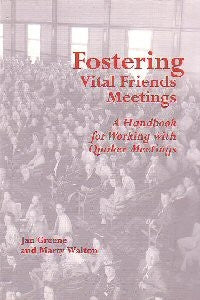 Fostering Vital Friends Meetings
---
Fostering Vital Friends Meetings: A Handbook for Working with Quaker Meetings
Growing from the common purpose of nurturing and encouraging meetings, this handbook provides carefully seasoned guidelines, tools and exercises that meetings can use to strengthen Quaker practice in a concise and user-friendly manual. Sections detail who, what, how and why people can be about the work of fostering vitality in Friends meetings everywhere.
Written by Jan Greene and Marty Walton
Published: QuakerPress of FGC
ISBN: 9781888305074
Paperback, 112 pages
The Very Large (in fact enormous) resource manual that accompanied this book is available as a PDF at this URL http://tinyurl.com/cjrpqyv.   Here are its contents:

SECTION R1: FIELD WORK AS MINISTRY
R1–1 Preparation for Traveling in the Ministry Bill Taber
R1–2 The Use of Queries in One's Work Meryl Reis Louis
R1–3 When You Find Yourself in Charge Without a Plan Paul Schobernd
R1–5 Not Only Do We Struggle with a Dependence upon Things, We Struggle with a Dependence upon Activity Bruce Bishop
R1–7 Time and Ministry Nadine Hoover
R1–10 Queries on Our Work in Ministry NEYM/NYYM Pastors' Retreat
SECTION R2: CONCERNS OF MINISTRY AND COUNSEL
R2–1 Strengthening Our Meetings as Caring Communities Arlene Kelly
R2–5 Inner Work Marty Grundy
R2–7 Spiritual Friendships Liz Yeats
R2–8 Covenant Groups Carole Treadway and Liz Yeats
R2–9 Processing Leading Through Friends' Community Structures Rosa Packard
R2–10 What Monthly Meetings Can Do and Teach Friends to Do in Support of Leadings and Peacemaking Efforts Rosa Packard
R2–11 Clearness Committees, Committees of Care, and Committees of Oversight Canadian YM
R2–15 Clearness Committees and Their Use in Personal Discernment Jan Hoffman
R2–17 Responding to Calls to Ministry Central Philadelphia MM
R2–21 Support Groups Mary Lou Leavitt
R2–24 What is Ministry? Virginia Schurman
R2–25 The Ministry of Pastoral Care Arlene Kelly
R2–28 Tips on Eldering Leanna Goerlich and Carol Holmes
R2–28 Queries on Eldering Bill Warters
R2–29 Setting Limits Gospel Order Sub-Committee, NYYM
R2–30 Signals and Actions Gospel Order Sub-Committee, NYYM
R2–33 Friends and Conflict Jan Greene
R2–35 Sense of the Meeting, Sense of the Parking Lot Jan Greene
R2–36 Compassionate Use of Information Portland (ME) Meeting, NEYM
R2–37 Addressing Conflict Ad Hoc Committee to Address Conflict, NYYM
R2–40 The Steps Involved in Following Gospel Order Steven Davidson
R2–41 Strife in the Meeting Outreach Committee, NPYM
R2–42 Confrontation Bruce Bishop
R2–43 Workshop: Meeting Problem-Solving Process Jan Greene
R2–44 Workshop: Identifying Your Meeting's Conflict Norms and Sanctions Jan Greene
R2–45 Meeting for Reconciliation Steven Davidson
table of contents iii
R2–47 A Guide for Conducting the Meeting for Reconciliation Steven Davidson
R2–51 Suggestions for Leading a Worship Sharing Group Shirley Dodson
R2–53 Spiritual Assessment Guidelines Marcia A. Schnorr
R2–55 Towards a Gathered Friends Community Leanna Goerlich
SECTION R3: QUAKERS AND THE SHADOW SIDE
R3–1 Quakers and the Inner Dark Jo Farrow
R3–8 The Shadow: A Definition Rita Varley
R3–9 Merciful Jesus Anne Thomas
R3–11 Policy on Sexual Harassment Canadian YM Personnel Committee
R3–13 Dealing with a Child Abuser in the Meeting Community Rochester (NY) MM
R3–19 The Agony and the Ecstasy Richard Foster
R3–21 Workshop: Beginning to Explore Violence Anne Thomas
SECTION R4: FRIENDS AND LEADERSHIP
R4–1 Our Long Night of Preparation: Leadership Among  Unprogrammed Friends in North America Anne Thomas
R4–4 The Dilemmas of Organizational Leadership in the Religious Society of Friends Bruce Birchard
SECTION R5: THE MINISTRY OF VISITATION
R5–1 Report of a Visitation Preparation Weekend NYYM Ministry and Counsel
R5–5 Travel Procedure for Members of the Religious Education Committee FGC
SECTION R6: ADVANCEMENT AND OUTREACH
R6–1 Twentieth Century Organizations Founded by Friends Sally Rickerman
R6–5 Friends for 300 Years: It's a Good Life! Max L. Carter
R6–9 There is Still a Great People to Be Gathered: A Collection of Thoughts about Outreach Jan Greene
R6–11 Evangelism: A Four-Letter Word? Jan Greene
R6–12 Annual Monthly Meeting A and O Checklist 1977 Outreach Conference
R6–13 Notes for the Guidance of Speakers at Quaker Home Service Enquirers Weekend Harvey Gillman
R6–17 Workshop on Outreach Anne Thomas
R6–19 When a Worship Group Wishes to Become a New Monthly Meeting Marshall Massey
R6–21 Questions and Guidelines for Becoming a Monthly Meeting Mountain View (CO) MM
SECTION R7: MEMBERSHIP
R7–1 One Meeting's Process for Setting Membership Procedures Tallahassee (FL) MM
R7–2 Membership Minute
R7–3 Guidance to Clearness Committees for Membership
R7–4 Cleaness Queries for Membership
R7–5 Membership Procedures Chapel Hill (NC) MM
R7–7 Membership Questions and Queries
SECTION R8: RELIGIOUS DIVERSITY
R8–1 Renewing the Covenant: Can Our Branches Be Olive Branches? Douglas Gwyn
R8–4 Silence and Preaching Janey O'Shea
R8–5 A Quaker Theology? Kenneth Lawton
R8–7 Workshop: The Boundaries of Quakerism Janey O'Shea
R8–8 The Unity of Paradoxical Quaker Extremes Bill Taber
R8–9 Paradoxical Understandings to Hold in Creative Tension Frances Irene Taber
R8–11 Workshop: Community in Diversity Jan Greene
R8–12 Discussion Questions on Unity and Diversity "Who We Are"
R8–12 Discussion Starter on Quaker Tradition Anne Thomas
R8–13 The Divided Inheritance Leonard S. Kenworthy
R8–14 Where Is the Hope for the Future of Quakerism? Elizabeth Claggett-Borne
SECTION R9: OVERCOMING RACISM AND BIAS
R9–1 A Call for Racial Justice among Friends Paul Ricketts
R9–3 The View from Here: Friends and Racism Joan Broadfield
R9–5 Our Role as Individuals in America's Racial History: Atlanta Meeting Looks at Racism Bert Skellie and Adelaide Solomon-Jordan
R9–7 How to Facilitate Frank Discussions of Hard Issues by Diverse Participants Future Leaders, Future Changes Program
R9–9 Resources for Working on Racism and Bias (various)
R9–11 Anti Bias and Anti Racism Programs Joan Broadfield
R9–13 Inclusivity Race and Class: What Are the Quaker Barriers? Joan Broadfield and Bill Frysinger
R9–14 Queries from Young Friends at FGC Gathering 1997
SECTION R10: FRIENDS LOOK AT THE BIBLE
R10-1 Workshops on Children and the Bible Anne Thomas
R10-3 Getting Adults Excited about the Hebrew Scriptures
R10-5 Selected Stories from the Hebrew Scriptures
R10-7 Bible Study: Luke 5:17–26 (Handout)
R10-9 Adults Teaching the New Testament to Children
R10-13 When a Child Asks for a Bible
R10-15 Biblical Readiness Joanne Spears
R10-17 Friendly Bible Study Method Joanne Spears
R10-21 Swords into Plowshares: A Bible Study Ruth Kinsey
R10-23 The Good, the Bad, the Uncomfortable Book Adam Corson-Finnerty
R10-24 A Bible Study Method FGC Religious Education Committee
SECTION R11: QUAKER PROCESS
R11-1 The Purpose of Meetings for Worship and for Business Paul Lacey
R11-1 On Meeting for Business Bill Taber
R11-2 Patient Waiting Douglas Bishop and Bonnie Deutsch
R11-3 Absent Friends and the Quaker Process Phil Oliver
R11-5 Some Thoughts on Quaker Process Paul Lacey
R11-6 Queries on the Meeting for Business San Francisco (CA) MM
R11-7 A Nominating Committee Process Eleanor Warnock
R11-8 Guidelines for Preparing a Committee Report Margallen Fichter
R11-9 Workshop on Clerking Anne Thomas
R11-11 Handout: Notes on Clerking
R11-13 Handout: Minutes: Getting Then into Friends Hands
R11-17 Workshop: A Consideration of Our Quaker Business Process Jan Greene
SECTION R12: STEWARDSHIP
R12-1 About Yearly Meeting Finances and Related Matters Ad Hoc Committee on the Financial Health of New England YM
R12-7 Some Thoughts on Money and Stewardship RE Committee, Phila. YM
R12-8 Discussion Starter: Helping a Meeting Consider Finances Jan Greene
SECTION R13: WORKING WITH GROUPS
R13-1 Guidelines for Small Group Facilitators Steve Smith
R13-2 Needs Present in Groups Patsy Hayes Myers and Edward Myers Hayes
R13-3 Group Dynamics and Games Leadership Patsy Hayes Myers and Edward Myers Hayes
R13-5 The Nitty-Gritty Conference Planning Checklist Philadelphia YM
SECTION R14: YOUNG FRIENDS
R14-1 Some Thoughts on Teaching Teenagers Luther Conant
R14-5 Queries on Relating with Youth Betsey Kenworthy
R14-7 Organizing Programs for Quaker Teenagers Marsha Holliday
R14-17 Some Observations and Suggestions Regarding the Status of Young Friends Doris Blossom
R14-19 Betrayed by the Quaker Community Bruce Yarnall
R14-21 How Quakers Can Regain Their Youth Anthony Manousos
R14-23 A Beginning Proposal for Seventh Day Schools Anne Thomas
R14-26 Notes about Working with Young Friends Jan Greene
R14-27 Preventing Burnout Lissa Field
R14-29 Healing the Teenager Within Judith Randall
R14-32 Needs of Young Friends Cynthia Taylor
R14-32 Being a "Significant Other Adult" in the Life of a Young Friend Jan Greene
R14-33 A Young Friends' Guide to Worship Sharing Phila. YM Young Friends
R14-35 Setting Priorities for Meeting Support of Quaker Youth Sandy Parker
SECTION R15: WORKSHOPS, PROGRAMS AND ACTIVITIES
R15-1 Nurturing the Spiritual Life of Friends Jan Greene
R15-5 Meeting Renewal Jan Greene
R15-7 Some Characteristics of Vital Friends Meetings Leonard S. Kenworthy
R15-9 "Envisioning Our Future" Workshop Buffalo (NY) MM
R15-10 Observing Our Meeting (source unknown)
R15-10 On Membership Nancy Middleton
R15-10 How Do We Express Our Faith to Others? Adam Corson-Finnerty
R15-10 So, You've Been Asked to Speak about the Religious Society of Friends? Bob and Susie Fetter
R15-11 The Fishbowl: A Program to Help Groups Work Through Conflict Lynne Woehlie
R15-13 Sharing about One's Spiritual Journey Anne Thomas, CYM
R15-14 Another Activity on Sharing Our Spiritual Journey PYM Quaker Studies
R15-15 Creative Sharing Questions London Grove (PA) MM
R15-17 Paradigms of Calls and Discoveries of Gifts Philadelphia Gifts Group
R15-18 Worship Seeing: Drawing Out Gifts (multi-session) (source unknown)
R15-19 Exercise on Drawing Out Gifts (one session) (source unknown)
R15-21 Journaling Workshop Marsha Holliday
R15-25 Peacemaking with Your Religious Past (five sessions) Jan Greene
R15-26 Your Spiritual Journey
R15-28 The Haunting Church
R15-30 Companions on the Way
R15-31 From the Past to the Present
R15-32 The Growing Edges
R15-33 Handouts for above workshop Jan Greene
R15-35 Owning Our Religious Past and Present (one session) Anne Thomas
R15-38 Spiritual Development Through Play FGC Religious Education Committee Intergenerational Activities
R15-39 Introductory Activity (source unknown)
R15-39 People Hunt (source unknown)
R15-39 Quaker Fruits and Nuts Treasure Hunt Betsy Muench
R15-40 Yarn Toss Group Builder Shirley Dodson
R15-40 Listening and Decision-Making Activity Chris Jorgensen
R15-41 Meeting Quiz: A Light and Lively (source unknown)
R15-42 Recipe for a Nurture Workshop in Your Home Meeting Anita Baker
R15-43 The Great Valentines' Day Race (source unknown)
R15-44 Toss a Feeling Winston Press
R15-45 Tetrahedral Kites Daryl Bergquist
R15-47 Four Doors to Meeting for Worship Anne Thomas
R15-48 Gifts and Ministries Anne Thomas
R15-49 We're Going to Meeting for Worship Anne Thomas
R15-50 The Quaker Meeting for Worship Anne Thomas
R15-51 Answering That of God in Our Children Anne Thomas
R15-52 Addressing Sexual Abuse in Friends' Meetings Anne Thomas
R15-53 Testimonies and Traditions: Some Aspects of Quaker Spirituality Anne Thomas
R15-54 The Wounded Meeting Anne Thomas
R15-55 Questions of Integrity: A Quaker Perspective Anne Thomas
R15-56 God is Silence Anne Thomas
R15-57 Guide to Quaker Practice Anne Thomas
R15-58 Meeting Needs Anne Thomas
R15-59 Friends and Worship Anne Thomas
R15-61 The Mission of Religious Education Jan Greene
R15-62 Planning an Adult Religious Education Program for Your Meeting Shirley Dodson
R15-63 Meeting Expectations: "Our Classroom Covenant" Anne Thomas
R15-64 A Christmas Program: Echo Pantomime—"We Found Him" Anne Thomas
SECTION R16: QUERIES AND QUOTES THAT MIGHT BE USED IN A PROGRAM OR WORKSHOP
R16-1 On Faith (see Queries for sources)
R16-1 On Prayer
R16-2 On the Spiritual Journey
R16-3 On Discernment
R16-4 On Spiritual Gifts
R16-5 On Pastoral Care
R16-5 On Caring for Our Youth
R16-6 On Meetings Serving Families
R16-6 On Conflict
R16-7 On Meeting for Worship
R16-7 On Meeting for Worship With a Concern for Business
R16-7 On Work as a Committee Member
R16-8 On the Wholeness of the Monthly Meeting
R16-9 On Meeting Renewal and Outreach
R16-11 On Quaker Diversity
R16-12 On Witness
R16-13 On the Use of Language
R16-13 On the Environment
SECTION R17: READING LISTS
R17-1 A Brief Reading List for Attenders Philadelphia YM
R17-3 Meeting for Reading: A Beginning List Anne Thomas
R17-5 Spiritual Nurture in the Religious Society of Friends Spiritual Nurture Conf.
R17-11 Resources for Spiritual Friendship FGC Religious Education Committee
R17-12 Keeping A Spiritual Journal: Some Suggested Readings (source unknown)
R17-13 A Selected Bibliography for Quaker Families Philadelphia YM
R17-16 The Meeting for Worship with a Concern for Business (source unknown)
---
Share this Product
---
More from this collection