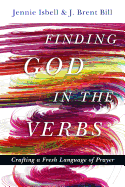 Finding God in the Verbs: Crafting a Fresh Language of Prayer
---
Do you long for deeper communion with God? Friends Jennie Isbell and J. Brent Bill know how easy it is to lapse into repetitious refrains of prayer:
"Our hearts told us that we had lapsed into easy God speak. We weren't reaching deep into our spirits and drawing out living words of praise, confession, concern, intercession and longing. We were tired of speaking in clipped shorthand to God. We wanted to pray in such a way that we showed up with our whole selves."
If you have experienced a similar longing, come join the authors on this prayer journey into the deep waters of the Spirit. This book and workshop offer companionship and guidance as you begin to notice, consider and deepen your prayer experiences, with refreshing exercises sprinkled through every chapter to offer you a fresh language for prayer. Find God here—in the nouns and the verbs of your conversation.
In addition to being a helpful book, Finding God in the Verbs is also available as a two or four hour introductory workshop or a full weekend retreat. Either way, it's a lively opportunity to explore and unpack the language of prayer, including inherited and ancestral prayers, spontaneous prayers, and the unuttered prayers of your heart. In this highly experiential workshop, participants play with scriptural and personal images for God and the verbs (and other words) and implications that go with them. We dive into language and the silence that yields to listening, all while leaving theological baggage at the bag check. For more information, click here.
---
Share this Product
---
More from this collection