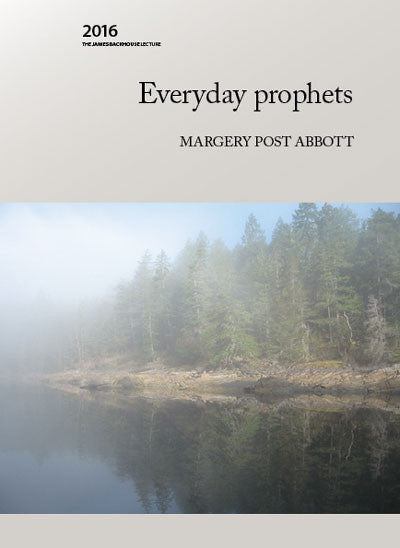 ---
The 2016 JAMES BACKHOUSE LECTURE
Margery Post Abbott explores the interplay between faith and action, drawing on her wide range of experiences as a scholar, activist, sailor and Quaker.
Taking an ethical stance, acting on the concern for justice and the yearning for peace, does much to open hearts. Yet some activists get burnt out or caught up in the tangle of power or pride,  becoming what they were resisting. Friends have always asserted that there is a source of strength and guidance that, paraphrasing William Penn, changes the human heart so that each person might better change the world. This Spirit fuels the work for which Friends are most known.
Author: Marge Abbott is a member of the Religious Society of Friends and has been clerk of a number of bodies including the Friends Committee on National Legislation (FCNL), the Quaker advocacy lobby in the public interest based in Washington DC. Her monthly meeting has formally minuted its support of her ministry as a writer and teacher on Quaker spirituality and history. Abbott carries concerns both for how we might better articulate our faith today and for reconciliation across the divisions among Friends. These concerns flavour her writings which include To Be Broken and Tender: A Quaker Theology for Today and The Historical Dictionary of the Friends. Among other actions, her concerns have led her to help develop the Pacific Northwest Quaker Women's Theology conferences which have brought together evangelical and liberal Quakers for over two decades.
See our collection of Margery Post Abbott's publications, here.
Author: Margery Post Abbott
Publisher:
The Religious Society of Friends (Quakers) in Australia, 2016
ISBN: 9780992385767
Paperback, 52 pages
---
Share this Product
---
More from this collection