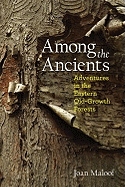 Among the Ancients: Adventures in the Eastern Old-Growth Forests
---
Finalist for the Eric Hoffer Award

A natural history primer packed with travel ideas, this tour of 26 old-growth forests one in each state east of the Mississippi River and all open to the public aims to dispel the misconception that these forests are located only on the west coast. With intelligence and lyricism, the book highlights the adventure in getting to each forest and what visitors will find when they arrive. From giant hemlock groves in Pennsylvania to a lonely stand of pines in Wisconsin, each journey provides face-to-face experiences with forests containing majestic trees and a rich diversity of life. As an impassioned plea to preserve and support the few untouched stretches of forest that remain, the discussion touches upon the perseverance of these locations despite modern development, as well as the vital link between old-growth forests and humanity s own survival."
Author:  Joan Maloof, PhD is a professor of biology and environmental studies at Salisbury University in Salisbury, MD.
Published by Ruka Press, 2011.
---
Share this Product
---
More from this collection