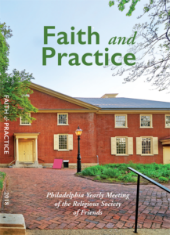 Faith and Practice - Philadelphia Yearly Meeting (2018)
---
Faith and Practice - Philadelphia Yearly Meeting (PYM) of the Religious Society of Friends - 2018 edition 
Faith & Practice is the written record of the collective sense of the Spirit for a yearly meeting body. Most books of faith and practice are continually revised and updated and include advices on procedures within the faith, current practice for conducting the yearly meeting and monthly meeting business and numerous quotations from prominent Friends on belief, worship, concerns, leadings, and testimonies. This is an essential text for any Friend within a yearly meeting.
Quaker Meetings: If you are in Pennsylvania and have tax exempt status, then contact the Bookstore at bookstore@fgcquaker.org to provide the documentation. Wait until you hear back from us before placing the order, as we need to enter your tax status into our software.
Remember, customers get a 10% discount on orders over $100 by using the code QB10% at checkout.
Author: Philadelphia Yearly Meeting
Publisher: Philadelphia Yearly Meeting (2018)
ISBN: 9780977951123
Paperback, Pages: 310
---
Share this Product
---
More from this collection