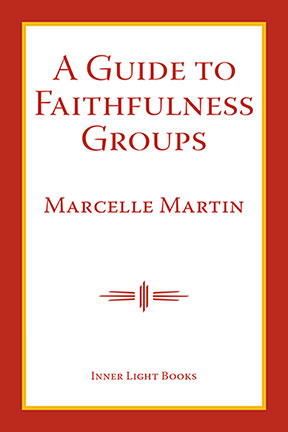 A Guide to Faithfulness Groups
---
This book explains what faithfulness is and how it can be cultivated by a community that practices ways to listen inwardly together for divine guidance. Above all, this book is a guide to faithfulness groups, a practice that holds great potential for supporting individuals of any faith in allowing the work of the Spirit to become manifest through them and their communities.
Throughout history, those who have been guided by divine Wisdom and then faithfully followed the leading of the Spirit have experienced divine love and healing power flowing through them into the wider world. God leads faithful individuals and groups to undertake particular actions and ways of life. Some are led to follow what has been variously named a call, leading, ministry, covenant, or spiritual commitment. Courageously faithful people have catalyzed important social changes and have been a force for reconciliation, education, peace, justice, and healing. Following the divine call is not easy, however, when it guides us to live and act in ways different from the prevailing culture. To be faithful, most people require the support of at least a few companions who understand how the Spirit leads individuals and groups to undertake specific actions and ministry and who also understand how to support one another in responding to those calls. In our time, the call to faithfulness is urgent, and people need practices that support both a deeper awareness of the movement of the Spirit and a courageous responsiveness.
See more of Marcelle Martin's publications, here.
Author: Marcelle Martin
Publisher: Inner Light books, Sept. 1 2019
ISBN:
9781732823952
Paperback, 109 pages
---
Share this Product
---
More from this collection