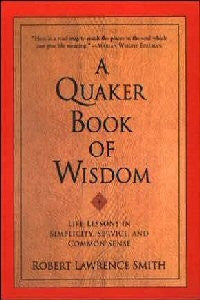 ---
Smith, a lifelong Friend and retired headmaster of Sidwell Friends School, offers personal reflections on the values and lessons absorbed from his Quaker childhood and in later years. Chapters on Silence, Worship, Truth, Simplicity, Conscience, Nonviolence, Service, Business, Education, and Family provide an informal but revealing inside look at what Quaker faith has meant in one person's life, while providing a general introduction to Friends practices and principles.
"The most valuable aspect of religion," writes Robert Lawrence Smith, "is that it provides us with a framework for living. I have always felt that the beauty and power of Quakerism is that it exhorts us to live more simply, more truthfully, more charitably."
Taking his inspiration from the teaching of the first Quaker, George Fox, and from his own nine generations of Quaker forebears, Smith speaks to all of us who are seeking a way to make our lives simpler, more meaningful, and more useful. Beginning with the Quaker belief that "There is that of God in every person," Smith explores the ways in which we can harness the inner light of God that dwells in each of us to guide the personal choices and challenges we face every day. How to live and speak truthfully. How to listen for, trust, and act on our conscience. How to make our work an expression of the best that is in us.
Using vivid examples from his own life, Smith writes eloquently of Quaker Meeting, his decision not to be a pacifist but to fight in World War II, and later to oppose the Vietnam War. From his work as an educator and headmaster to his role as a husband and father, Smith quietly convinces that the lofty ideals of Quakerism offer all of us practical tools for leading a more meaningful life. His book culminates with a moving letter to his grandchildren which imparts ten lessons for "letting your life speak."
Some of the lessons Robert Smith espouses
Lesson One Seize the present.
Lesson Two: Love yourself, whatever faults you have, and love the world, however bad it is.
Lesson Three: Stop talking and listen to what you really know
Lesson Four: Play Soccer! (Or whatever team sport you love)
Lesson Five: Accept the fact that our lives are only partly in our hands.
Lesson Six: Believe in the perfectibility of yourself and society.
Lesson Seven: Make your love visible in the world through your work.
Lesson Eight: Seek justice in the world, but not in your own life.
Lesson Nine: Look for the light of God in every person.
Lesson Ten: Let your life speak. 
Author: Robert Lawrence Smith
Publisher: William Morrow Paperbacks, 1999
ISBN: 9780688172336
Paperback, 208 pages
---
Share this Product
---
More from this collection