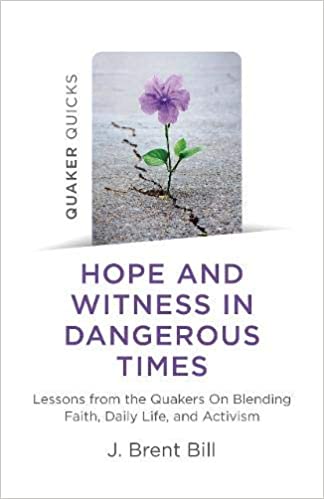 Hope and Witness in Dangerous Times
---
Hope and Witness in Dangerous Times: Lessons from the Quakers On Blending Faith, Daily Life, and Activism
This book is part of the Quaker Quicks series.
This book invites all people of faith to consider how our personal and communal faith practices in growing deeper spirituality should bring us to a fresh engagement with the needs of this world. This includes being active in promoting those values which align with our understanding of the gospel and standing against injustice, oppression, and evil inflicted on any of God's children. Such activism, rooted in deep spirituality, may include being what Quaker civil rights activist Bayard Rustin called "angelic troublemakers."
Author Bio: John Brent Bill is Quaker minister, author, retreat leader, conservationist, and photographer. He has written many books, articles, and fiction pieces and teaches writing at the graduate school level and in adult continuing education courses. He has also served as a writing coach to a number of published writers. He lives in Mooresville, Indiana.
Previous Titles: Beauty, Truth, Life, and Love: Finding an Abundant, Good Life with God; Life Lessons from a Bad Quaker: A Humble Stumble Toward Simplicity and Grace; Finding God in the Verbs: Crafting a New Language of Prayer. To see more writings by J. Brent Bill, click here.
Endorsements: In these troubling times it's easy to feel "I'm too insignificant to make a difference". Brent Bill draws deeply on age-old and modern Quaker insights to show how each of us how can find our own way forward from hopelessness, and move through contemplation and onward into action. He suggests that effective engagement in large and small issues needs to be based on faith, prayer and love of other people.  -John Lampen, author of Quaker Roots and Branches.
Author: J. Brent Bill
Publisher: Christian Alternative, August 2021
ISBN: 
9781789046199
Paperback, 88 pages
---
Share this Product
---
More from this collection