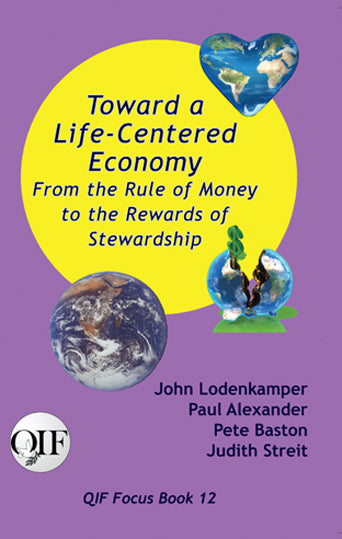 Toward a Life-Centered Economy (QIF #12)
---
Toward a Life-Centered Economy: From the Rule of Money to the Rewards of Stewardship shows how we as consumers and investors could shift the marketplace toward sustainable, non-polluting products and promote geographic re-localization. Economic synergism will give all the stakeholders a place at the table: labor, management, shareholders, customers, suppliers, community, and, most especially, Earth's ecosystems.
The current money-centered economy is not sustainable because it is dependent on infinite growth. Human exploitation, or over-exploitation, of Earth's land, natural resources and biological productivity now approaches or exceeds many natural limits. By discounting the future in monetary terms, our current system drives short-term extraction of resources at the expense of future generations.
However, an attractive alternative can develop from the grassroots in parallel with the current system and replace its worst aspects. This life-centered economic system emphasizes "quality of life" over "quantity of stuff." It implies a more thoughtful use of our time for the things that are truly important, such as fulfillment of our individual potentials and our relationships with family, friends and our greater community. Toward a Life-Centered Economy is the 12th QIF Focus Book. 
See the full series here.
Publisher: Quaker Institute for the Future, 2019
paperback
---
Share this Product
---
More from this collection