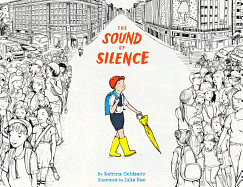 The Sound of Silence (hardcover)
---
Yoshio thinks Tokyo sounds like a symphony hall! He delights in everyday sounds--shoes squishing through puddles, raindrops pattering down, and lots of giggles! But one day he meets a musician who tells Yoshio that her favorite sound is ma, the Japanese word for the sound of silence. Yoshio must hear this! But how can he find it amid the hustle and bustle of the city?

In the vein of Wabi Sabi, this book explains a sophisticated Japanese concept in a child-friendly way.
Author: Katrina Goldsaito's favorite sound is the sound of bare feet on tatami mats. In Tokyo, she worked as an on-camera TV journalist and producer for NHK-World, and has written for National Geographic, The Christian Science Monitor, NPR, and The Japan Times. She lives near Golden Gate Park with her husband and son, and spends her days eating avocados and working on her first YA novel.
ages 4-8
Illustrator: Julia Kuo's favorite sound is
kuk-kuk-kuk
(the sound an angry squirrel makes). She is the illustrator of
Go, Little Green Truck
and has created illustrations for American Greetings, the Cleveland Public Library,
The New York Times
, and Capitol Records, among many others. She works from Chicago for most of the year, and from Taipei over the winter.
Publisher: Little, Brown Books for Young Readers, 2016
ISBN: 9780316203371
---
Share this Product
---
More from this collection