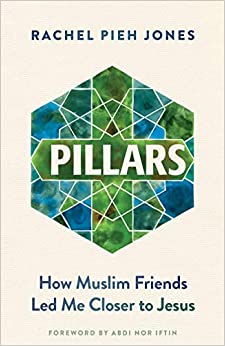 ---
Pillars: How Muslim Friends Led Me Closer to Jesus
When Rachel Pieh Jones moved from Minnesota to rural Somalia with her husband and twin toddlers eighteen years ago, she was secure in a faith that defined who was right and who was wrong, who was saved and who needed saving. She had been taught that Islam was evil, full of lies and darkness, and that the world would be better without it.
Jones recounts, often entertainingly, the personal encounters and growing friendships that gradually dismantle her unspoken fears and prejudices and deepen her appreciation for Islam. Unexpectedly, along the way she also gains a far richer understanding of her own Christian faith. Grouping her stories around the five pillars of Islam – creed, prayer, fasting, giving, and pilgrimage – Jones shows how her Muslim friends' devotion to these pillars leads her to rediscover ancient Christian practices her own religious tradition has lost or neglected.
Pillars: How Muslim Friends Led Me Closer to Jesus, beautifully and compassionately written and lush with detail, is a timely book for learning to love one another more faithfully across all our religious and cultural divides.  - Ken Jacobsen in the Friends Journal review.
Read the full review in Friends Journal, here. 
Author: Rachel Pieh Jones
Publisher: Plough Publishing house, April 2021
ISBN: 
9781636080062
Paperback, 280 pages
---
Share this Product
---
More from this collection