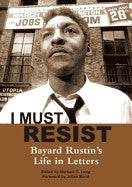 I Must Resist: Bayard Rustin's Life in Letters
---
I Must Resist: Bayard Rustin's Life in Letters
A collection of over 150 of his letters; his correspondents include the major progressives of his day and touchingly his correspondence with AFSC staff after his arrest. Bayard Rustin's eloquent, impassioned voice, his ability to chart the path "from protest to politics," is both timely and deeply informative. As the Occupy movement ushers America into a pivotal election year, and as politicians and citizens re-assess their goals and strategies, these letters provide direct access to the strategic thinking and tactical planning that led to the successes of one of America's most transformative and historic social movements.
Bayard Rustin (March 17, 1912 - August 24, 1987) was an American leader in social movements for civil rights, socialism, pacifism and non-violence, and gay rights.
In the pacifist Fellowship of Reconciliation (FOR), Rustin practiced nonviolence. He was a leading activist of the early 1947-1955 civil-rights movement, helping to initiate a 1947 Freedom Ride to challenge with civil disobedience racial segregation on interstate busing. He recognized Martin Luther King, Jr.'s leadership, and helped to organize the Southern Christian Leadership Conference to strengthen King's leadership; Rustin promoted the philosophy of nonviolence and the practices of nonviolent resistance, which he had observed while working with Gandhi's movement in India. Rustin became a leading strategist of the civil rights movement from 1955-1968. He was the chief organizer of the 1963 March on Washington for Jobs and Freedom, which was headed by A. Philip Randolph, the leading African-American labor-union president and socialist. Rustin also influenced young activists, such as Tom Kahn and Stokely Carmichael, in organizations like the Congress on Racial Equality (CORE) and the Student Nonviolent Coordinating Committee (SNCC).
After the passage of the civil-rights legislation of 1964-1965, Rustin focused attention on the economic problems of working-class and unemployed African Americans, suggesting that the civil-rights movement had left its period of "protest" and had entered an era of "politics," in which the Black community had to ally with the labor movement. Rustin became the head of the AFL-CIO's A. Philip Randolph Institute, which promoted the integration of formerly all-white unions and promoted the unionization of African Americans. Rustin became an honorary chairperson of the Socialist Party of America in 1972, before it changed its name to Social Democrats, USA (SDUSA); Rustin acted as national chairman of SDUSA during the 1970s. During the 1970s and 1980s, Rustin served on many humanitarian missions, such as aiding refugees from Communist Vietnam and Cambodia. He was on a humanitarian mission in Haiti when he died in 1987.
Rustin was a gay man who had been arrested for a homosexual act in 1953. Homosexuality was criminalized in parts of the United States until 2003 and stigmatized through the 1990s. Rustin's sexuality, or at least his embarrassingly public criminal charge, was criticized by some fellow pacifists and civil-rights leaders. Rustin was attacked as a "pervert" or "immoral influence" by political opponents from segregationists to Black power militants, and from the 1950s through the 1970s. In addition, his pre-1941 Communist Party affiliation was controversial. To avoid such attacks, Rustin served only rarely as a public spokesperson. He usually acted as an influential adviser to civil-rights leaders. In the 1970s, he became a public advocate on behalf of gay and lesbian causes.
In August 2013, President Barack Obama posthumously awarded Rustin the Presidential Medal of Freedom.
---
Share this Product
---
More from this collection