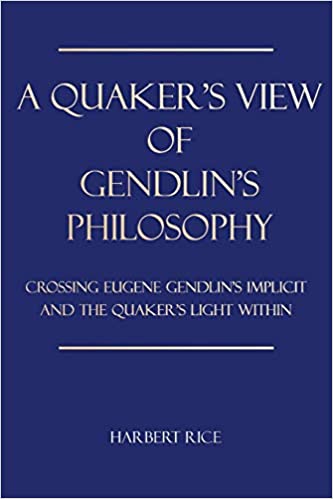 A Quaker's View Of Gendlin's Philosophy
---
A Quaker's View Of Gendlin's Philosophy: Crossing Eugene Gendlin's Implicit and the Quaker's Light Within
A Quaker's View Of Gendlin's Philosophy explores the social implications of Eugene Gendlin's Philosophy of the Implicit as it functions in Quaker Practice. The book crosses Gendlin's experiential concept of the Implicit with how the Religious Society of Friends (Quakers) organize around seeking what they call the Light Within.
The book's first part describes the Friend's silent meeting as it is practiced in the US and the UK. It sets out that the environment created by Quakers is a gathering circle where change and transformation can take place. Next, the book explores the way Quakers make a decision by arriving at a "sense of the meeting", then writing a minute of that decision. The book shows that reaching a decision by writing a minute is a group explication process that lets meeting members arrive at a shared sense of meaning and unity in their decisions.
The book's second part looks at the Alternatives to Violence Project (AVP). New York Quakers first developed AVP workshops in the 1970's to facilitate non-violence in US prisons. The Quakers modified their gathering circle to facilitate change and transformation in and with prison inmate participants. The book looks at how the Quakers adapted their gathering circle to fit the needs of working with prison inmates by making their gathering circle more explicit, more active, and more structured. Further, since AVP facilitators take notes and write reports on their workshops, the book describes how change and transformations take place among inmates within and as a result of the workshops.
Author: Harbert Rice
Publisher: Embudo Valley Press, 2020
ISBN: 9781734653304
Paperback, 118 pages
---
Share this Product
---
More from this collection